Members of Helston Town Band and Committee are saddened to hear of the passing of a man who, despite having never played an instrument, became an indispensable part of the organisation from the early 1990s.

Lionel Endean, who has died aged 81, worked tirelessly as Band Secretary, from 1993 until 2014. A highlight of his tenure was helping the Band to facilitate the move to new premises, in Church Street.

Helston born, Lionel spent many years in the Army and met his wife, Hilda, whilst serving in Germany. When they returned to civilian life, Lionel and Hilda bought a house in Four Lanes.
Having become acquainted with the Band through his work as Steward at the Royal British Legion Club, Lionel soon became a key part of all that the Band did and demonstrated that he was a great administrator and a tireless worker. He was present at all practices, band engagements and trips.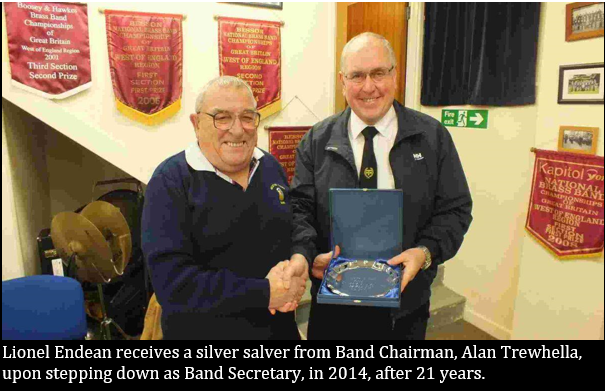 Lionel was known by all those who attended Helston's Solo and Quartet Contests, as he also took on the job of Contest Secretary and made the role his own.

Despite stepping away from the day-to-day life of the Band, Lionel remained a Life Member and Trustee.

He will always be fondly remembered as a true character and for his stalwart contribution to the success of Helston Town Band.

The Band sends condolences to Hilda and all the family.